...

Image Removed The MQTT Distributor Module is an MQTT server, compliant with the 3.1.1 MQTT protocol OASIS standard. It enables MQTT clients to securely connect, publish, and subscribe data, supplying data to both operational and business applications throughout the enterprise.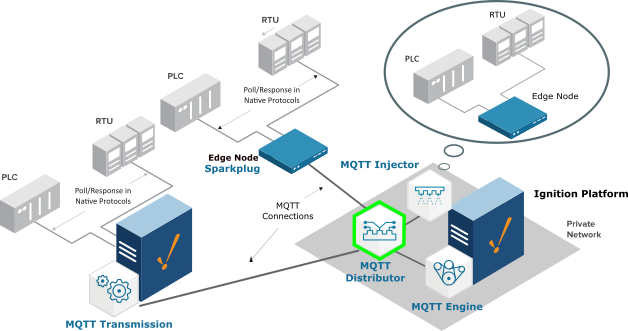 Image Removed
Enabling MQTT Distributor in conjunction with the MQTT Engine Module provides the components for a self-contained Message-Oriented Middleware (MOM) infrastructure from one Ignition gateway. This combination delivers the requirements for IIoT solutions and wide-area SCADA applications such as oil and gas pipeline controls solutions. It is ideal for situations where there are restricted or high-cost communications such as in VSAT or cellular connectivity. This solution is also highly effective for increasing the data throughput for high-performance plant-floor solutions.
More information including installation instructions can be found in the links below.